Computer Security is already at threat but with the rise in hacks and tricks mobile security is in danger too. Many people around the globe use their mobile devices more often. People tend to be more often active on a mobile phone rather than laptops or personal computers. Currently, there are also sites that are compatible with mobile. There could be a virus which could root inside your mobile through some sites you visit, some application you might install or even in the emails you open.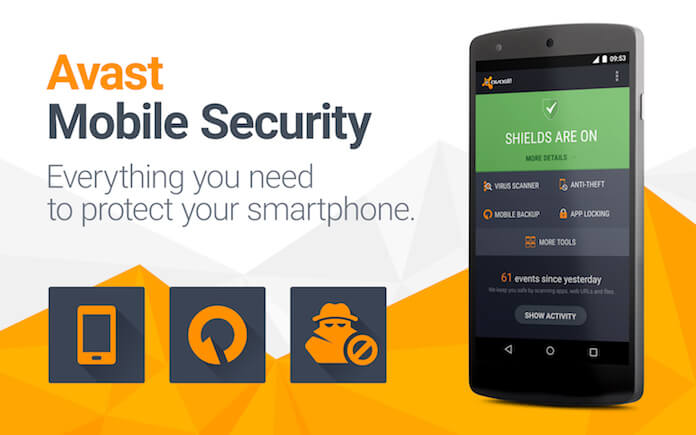 Hackers are trying to get inside the mobile phone, hack into your accounts and then have access to all your contact, images and even important documents on your phone.
Also Read: Top 5 Master Data Management Solutions
There are many anti-virus software available in the market. But we recommend the best one which according to us is: Avast Mobile Security Anti-virus.
Avast Mobile Security Antivirus has a strong and solid system to keep a check on your mobile device. There are more than 100 million downloads on the Android Google Play Store and the rating is 4.5 stars. It has also been the Editor's Choice for Best Android Security App in the year of 2014 and 2015. This app has gone through massive modifications and provides an ad-free experience for those who buy the premium version.
content://com.avast.android.mobilesecurity/temporaryNotifications
Pricing
At the launch of this app, it was mostly free except a few add-on features. Currently, the app has a premium tier that has many advantages and features added to it. The price is only $1.99 per month. It would be an advantage if one buys it at the annual package which is priced at $7.99. The price is quite reasonable when looking into the features being provided by the Avast Antivirus App. There will be regular upgrades within the app so we found the pricing to be on a good side when compared to features other antivirus services.
Protection Provided
Avast is an antivirus app that has undergone many testing and has yielded great results. One of the tests conducted by the German independent lab AV TEST's that checks security apps showed good results. The Avast Mobile Security App could detect as much as 99.8 percent of all 3,016 real-time malware threats which were injected. Another report showed that the app could block 100 percent of the 2,917 samples which had been collected in the four weeks.
Features of Avast Mobile AntiVirus
Call Blocker
This feature will get your phone to create an automated blacklist that blocks the calls from numbers which can be added manually. One can even block certain and specific area codes too.
App Permissions
Also known as the Privacy Advisor, the antivirus scans and checks the app you are installing. Avast Antivirus checks for all the permissions and makes a customized list sorting it into high, average and low permissions. This is one of the great features of the Avast Antivirus App because it provides you with a detailed report when compared to the one provided by Android Settings.
Anti-Theft Feature
If your phone has been lost or stolen, then there's a feature to turn on the location by using the GPS System. You can block the terminal and delete everything on the device. You can even forwards all the information into your new number. Anti-theft is one of the most attracting and the strongest feature provided by Avast Mobile Antivirus Security App. For premium users, there is an additional advantage. They can have the captured photo or any individual who enters the wrong PIN on the lock screen. Paid users can also record audio when any noise is detected.
Optimal VPN
Avast has an in-built Virtual Private Network provided which co-ordinates well. The interface connects you easily with any optimal VPN available. If you are looking for the server of a specific country to avoid the regional restrictions then this app can be helpful too. At the cost of just $1.99 per month or $19.99 a year, this is a great offer.
Also Read: Wide Collection of the Best Tech News
The Wi-Fi Finder
If you are someone who is constantly searching for a good WiFi connection then this a reliable tool offered by Avast. There's a map on the app which displays the open Wifi connections nearby you and then it connects with the SecureLine VPN so that you are protected from any unsecured network.